I'm back! Back from the big trip, which turned out to be not quite as big as I would have liked, but enjoyable all the same.
It started off on Wednesday afternoon; after working two nights in a row as well as pulling an all-nighter for some class related stuff, I was pretty beat by the time I got home. All the same, I gathered my clothes and rack together, hauled it all out to the car and set off sometime right around 3PM. The drive - I do not trust my volvo in the slightest - was thankfully uneventful, and I pulled into the driveway in Keene at 8PM on the nose. Joe wasn't home, I was too tired to cook dinner, so I laid on the couch until he got back and had a good night's sleep. I rather stupidly let the dogs sleep in the bed with me which left the sheets dirty, but when they're so adorable, how can you resist??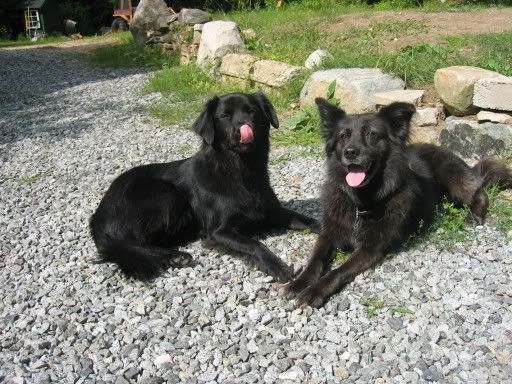 Friday morning, we met Jim Lawyer (who is working on a
new Dacks guidebook
) and co. over at the Pitchoff Chimney Cliffs. He had a friend there to take photos of another friend, and they were all set up and climbing something (I seem to have lost my guidebook and can't remember the route's name... something that looked like a pumpy, thin, and left diagonaling) by the time Joe & I arrived. I racked up and after we soloed the 5.2 up to the first birch tree belay on Pete's Farewell/The El, I went ahead and did the next pitch of Pete's Farewell. Joe continued by leading PF Flyer up to the top; that basically consisted of one strenuous move (a reachy balance problem pulling on an incipient crack far out to the left while reaching for holds far above you and to the right) to easier climbing. We descended via the huge chimney (quite cool and worth checking out), ate some lunch, and then, after the photographer got set up again, went up to the birch tree belay again. This time I set off to do the El, which is, as the name suggests, an "L" shaped climb. It starts with a long traverse to the right, around a corner and up slightly to a decent belay ledge. From there, it heads up a corner to a small roof, where you duck out right onto a little pedestal that you haul yourself onto. I had the grace of a walrus when I did it; I can't imagine a prettier way to do it, but it gets the job done. From there, you head up some cracks to the top - quite a fun little 5.7! I was so dehydrated (the sun was beating on us and I'd forgotten the water bottle; we'd also been waiting for a while for the photographer to get set up), so we bailed, headed down to the lake where I jumped in, ran over to Placid to get some dinner and went home.
Friday night we had a superfun impromptu dinner party; Apart from the 4 we'd climbed with, 6 or 7 other folks showed up. I cooked up some chicken curry, miso soup, salad and then the best part: peach cobbler made with peaches from Joe's tree. It was fantastic. There was also plenty of beer, wine, rum, vodka... when we were finally getting ready for bed around 11, yet another random person showed up and we stayed up for another hour... Saturday morning was pretty painful. Joe cleaned the truck while Stella and I put the rack together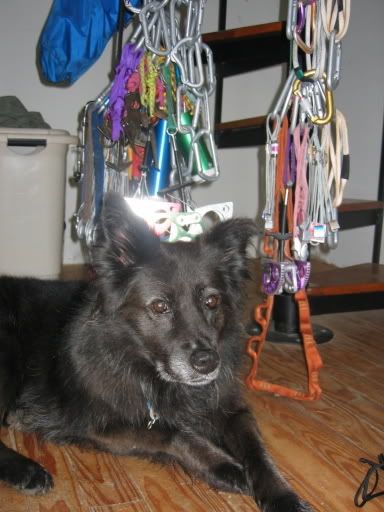 and we didn't actually get on the road until quite late. A quick ferry ride from Plattsburgh (we had to drop off the dogs) got us to VT, where Joe figured we'd stay with his friend in Northfield. Of course, said friend wasn't home, so we spent a lovely rainy night in the back of the truck, parked in his building's lot. Sunday's breakfast was a generic diner meal at the Red Kettle - there was nothing wrong with it, but it doesn't come particularly highyl recommended.
Sunday we drove to southern NH to another one of Joe's friends' houses, but yet again, they were not home. We spent about 20 minutes trying to work out how to break into the place (we searched everywhere but the cast iron pan hanging directly next to the front door for a key), and eventually settled for a game of horse in the driveway. I won with a fantastic shot from the grass beyond the driveway, and we retired to the back of the truck to contemplate what to do.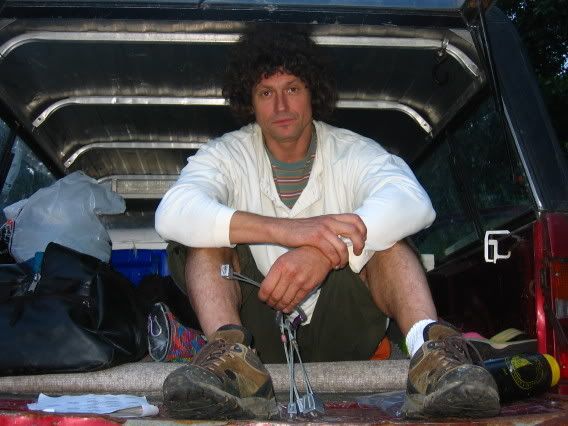 Consulting the NE guidebook revealed that there was climbing in Pawtuckaway State Park, which was no more than 20 minutes away. It was still quite wet, but we figured it better than nothing and took off to check it out. It ended up being quite pictoresque, on the side of a lake, with several little outcrops (~30-40 ft) scattered throughout the wooded hillside, but it also ended up being quite wet. It was a nice place to work out exactly what we'd be doing the next couple of days, however (verdict: who knows!)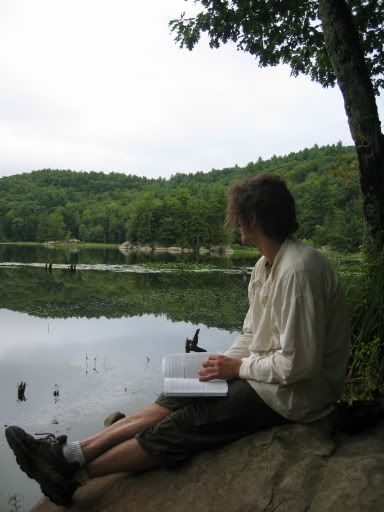 I did remark on the way back to Joe's friends' that I'd love to see a beaver; we almost hit one as it crossed the road not too long afterwards. Returning to find still nobody home (but reasoning that they'd be back sooner or later since Monday was a work day), we left again to find lunch. We went to a place on 102 north of Chester called the Pasta Loft. It looked fairly un-promising, but turned out to be fantastic. The bread was homemade and came with not only olive oil for dipping, but roasted garlic cloves as well, and for $6.95 I got a massive grilled chicken breast on rosemary foccacia with pesto mayo. I was quite pleasantly surprised. In the end, Joe's friends did come home and we did sleep in a bed that night.
Monday morning was another generic diner breakfast at the Good And Plenty, and we hit the road for North Conway. I needed to be at a computer at 1PM sharp, so Joe called up yet another friend who, as it turned out, was climbing in the Dacks. He gave us directions to his place in Conway, though, and we arrived and I got what I needed to get done, done. We decided to go see if the rock was dry enough to climb over at Cathedral, and the practice slabs seemed as good a place as any to go. There we ran into George Hurley (quite cool) who warned us that the rock was wet. I warmed up on a quite-slimy Child's Play (at 5.6, the easiest climb on the wall, but quite nice for the grade; it felt like 5.8 with the water!), and then, as a party of 3 men finally cleared off of They Died Laughing (5.9), we went over to do that. Somehow I wheedled my way into getting Joe to let me try to lead that, too; I figured it was a 5.9 (I've only lead one 5.9 on gear), but it looked very straighforward and the gear could not have been better. As I started up the wet crack, one of the boys congratulated me on my lead, which seemed odd given that I wasn't more than 15 feet off the ground. At any rate, the crack did spit me out once (my fist simply oooooozed out), but I'm going to go ahead and blame the water on that. I think I earned my beer! We got back, met up with Joe's friends (who'd just returned from the Dacks) and my friend from college (who was coincidentally in town) for mexican food and too many margaritas, and slept that night on a futon that was covered with the most fantastic sheep pelt. A quick phonecall confirmed that the dogs were doing ok with their babysitters.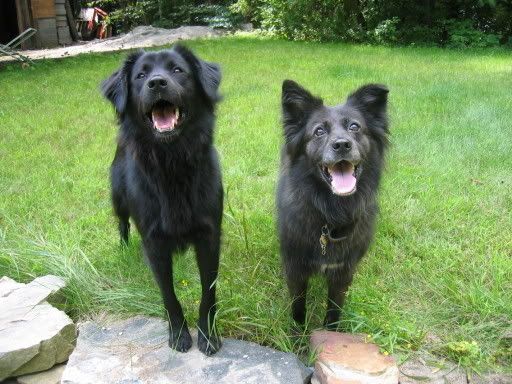 We arose to a beautiful sunrise coming over the lake just beyond the floor to ceiling window we were sleeping in front of. It was beautiful!
We finally got our asses out of bed around 7AM (too many margaritas will do that to you!) and got on the road towards Cannon. We stopped for pancakes at Mr. W's Pancake House which was, as usual, reasonably mediocre. Their homefries were not the usual mushy potatoes you get at most joints; they were like little deep fried french fry pieces. I'm not sure which I prefer... and I'm not sure why I didn't get pancakes at a pancake house, but hey, I figured for comparison's sake I'd better order egg/sausage and homefries everywhere I went.
We wanted to do Moby Grape, a classic III 5.8, and all seemed well when we pulled into the parking lot, finding only one other van there. Too easy. At some point on the hike up the talus, I was beset with massive GI issues that would basically plague me the rest of the day, so I was pretty miserable, but made the best of it. After taking what was possibly the worst crap of my entire life, we got to the base of the climb, only to find someone up at the top of Reppy's Crack, the 5.9 handcrack that many people use as an alternate start to Moby Grape. Turns out it was a fellow rope soloing, and he asked us to untie his rope as he'd run out about 5m short of the anchors (he'd linked pitches 1 & 2 together, as most people do). He had a 50m rope. I wonder what he'd have done if we hadn't shown up!
Feeling less than well, Joe went ahead and led the first two pitches of Moby Grape, which are interesting cracks on the angled side of a buttress. Quite cool in that because of all the angles, gravity is really pulling on you in ways that you don't really associate with crack climbing. At the top, you pull onto a little ledge and climb a perfect little handcrack up to the bolted belay. The next pitch is a short, 4th class pitch and we quickly scrambled to the top of that. By this point, with a party below us, we offered to let the rope soloer, a fellow named Mike, join us. He did, and as it turns out, he used to teach someone who used to live with Joe - the climbing world is pretty small!. The next pitch was beautiful, probably my favorite on the route. I briefly contemplated leading it, but honestly, my head was feeling daunted by the roof (easy way to scare Aya: put her under a roof, no matter how well protected) and the rest of my body was feeling pretty shitty (pun intended) too. The pitch started on a beautiful finger/layback crack before coming up under a smallish roof with a beautiful finger crack running through it; the way to pull it was to actually lay it back and sort of work your feet up and heave yourself along it until you could get your left foot up on the edge of the crack and haul your right leg up over the roof - not pretty, but it got the job done (with a small amount of squealing when my feet unexpectedly cut loose and left me peddaling like a cartoon character in mid-air). I did lead the next pitch, just because I felt I needed to contribute something;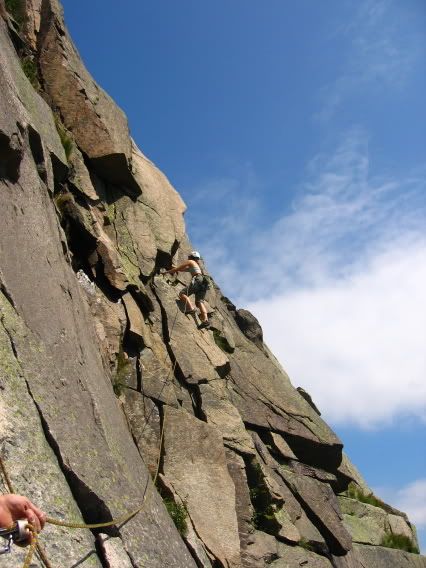 it wasn't much of anything, being just a few angling cracks in blocky rocks off to the right of the belay, and then heading straight up, up the left side of a huge roof. I stopped just below the Finger of Fate, a crazy feature which is easily visible even from the base of the climb. I wasn't quite sure where I was supposed to belay from, but it seemed as good a place as any so I stuffed in a couple of pieces, stuffed my shoes into a crack and belayed the guys up. Joe, having climbed the route before, insisted that Mike lead the Finger of Fate, but his reaction was about the same as mine: sounds great, but I really don't feel like doing the unprotected slab getting to its base. So, off Joe went, electing to pull up the left side of the finger (it apparently goes at about 5.8 either way). Following, I pulled through the offwidth of the finger basically the opposite way that Joe had (that is, with my left shoulder in); I shimmied my way up it and at some point reached up and behind me with my right arm to gain the edge of the finger. I hauled myself up and over, and my hesitance to lead the pitch was confirmed when I saw that even after the unprotectable finger, you have to get up and make a couple of slab moves before you can get any pro it. I'm not sure why unprotected slabs are so scary, but they just are. The Finger of Fate, FYI, is a really really really really awesome feature which is basically like a huge, detached shark's fin.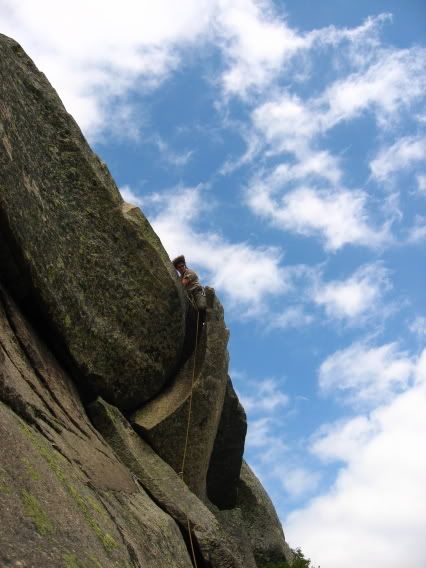 It seems like it should be scary wobbly, but it's super secure.
The route was pretty much done after this; Rather than climb to the top we decided to traverse to the right to get off the route, but unfortunately Mike took us up the wrong chimney (ended up on something which as near as I can tell was directly above Vertigo) and we ended up doing some sketchy run-out slab traverses to finally get to safe ground. The adventure, unfortunately,
was far from done. For whatever reason, Mike said we needed to descend via the heli-pad, so that's what we aimed for (Mike, meanwhile, decided to hike up to the very top and see if he could catch the last tram down - it was about 4PM at this point). We did find a vague descent trail from their and followed it until it petered out; by this point the other party on the route caught up to us and so we were a team of 4 bushwhacking our way through the overgrown scrub at the top of the cliffs. We knew we were far off the real trail because we were nowhere near the Old Man (which I really wanted to see), but eventually, after an hour or so, we emereged onto a trail. The other party was heading back to their cars so they were set, but as Joe and I'd left our packs at the base of the climb (intending to do Reppy's Crack), we needed to find the climbers trail that cut back right along the base of the cliff. We did, through a bit of trial and error, eventually find it. It had bear scat all over it, which wasn't terribly comforting given that Mike had earlier told us he'd seen the bear in the talus field a few days prior. It certainly wasn't comforting as I belayed Joe up Reppy's (nope. My guts were still pissed off at me) to know that I'd seen bear scat about 10 yards down the trail and that I was in a grove full of blackberries.... my only saving thought was that the blackberries were bound to be more appealing to a bear than my stinky ass. Reppy's turned out to be just as nice (and just as straightforward) as it looked to be; sure it was a great crack but honestly it was nothing to make me say wow!
We just missed Mike leaving as we finally got back to the car, and that night, the friends that we were staying with had cooked a fantastic Thai dinner. The next morning, a coin toss decided that we were going to go climb at the Barber wall at Cathedral (Joe hadn't climbed there before), but since I hadn't done Recompense before, he decided that we needed to go do that. We had breakfast at Chinook in Conway, which was fantastic - homemade wheat toast, really thick slices, with sweet potato homefries and excellent sausage... mmm mmm! Highly recommended!